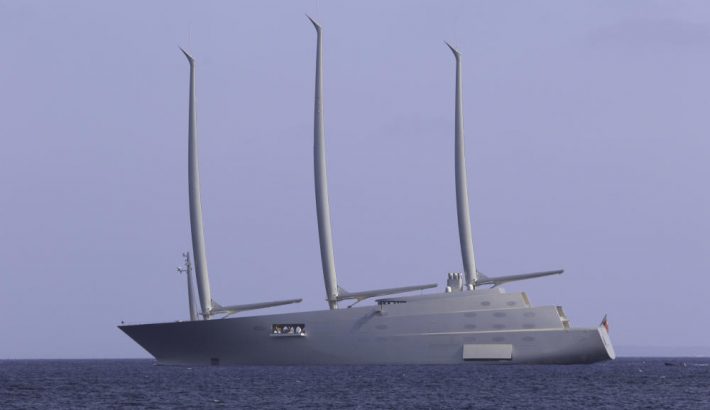 Designed by Philippe Starck, it has an estimated price of 400 million euros and its owner is the Russian billionaire Andrei Melnichenko
The largest sailing ship in the world, the 'A', anchors in Ibiza
One of the largest sailing ships in the world, the 'A', anchors for the first time in Ibiza
The impressive profile of one of the largest sailing ships in the world, the 'A', only draws the attention of those who this morning walked along the coast of ses Figueretes.
The boat, which was 143 meters in length, became news when, on 4 October, it sailed for the first time from the berths of the German Naval Yards (GmbH) in Kiel, northern Germany, for a test sailing.
For more than four years it has been being built at the shipyards of GmbH at Nobiskrug.
The ship was designed by the Frenchman Philippe Starck, who is 2008 already designed for Melnichenko another luxury boat, the motor yacht "A". The new floating palace, this time a motor-driven sailing yacht, has the same name for the moment: "A". It is designed to have a crew of 54 members and to accommodate 20 guests.
The ship has eight floors, a landing strip for helicopters on one of its bridges and an underwater observation room. The height of its masts has been compared with the Big Ben of London
In 1991, at the age of 19 he began to earn his first rubles and dollars with a small business of computer sales and two years later he founded his first bank, MDM, whose main client was Roman Abramovich. At only 28 years old he began to accumulate a significant personal fortune by investing in sectors such as metal, mining, chemical industry and electricity, which has led him today to be one of the richest characters in the world.
According to Forbes magazine, Andrei Melnichenko, 45, has a fortune of $ 13.2 billion and is the eleventh richest man in Russia (89 in the world).
In 2005 he married the Serbian model Alexandra Nikolic on the Riviera, at an all-train wedding in which Whitney Houston and Christina Aguilera performed. The couple lives in the Russian capital, although they have several houses all over the world and feel a special liking for London, where on one of her husband Alexandra's birthday, far from buying a collection of CDs by Jennifer Lopez (her favorite singer), Took her in person to sing live as a surprise anniversary gift.